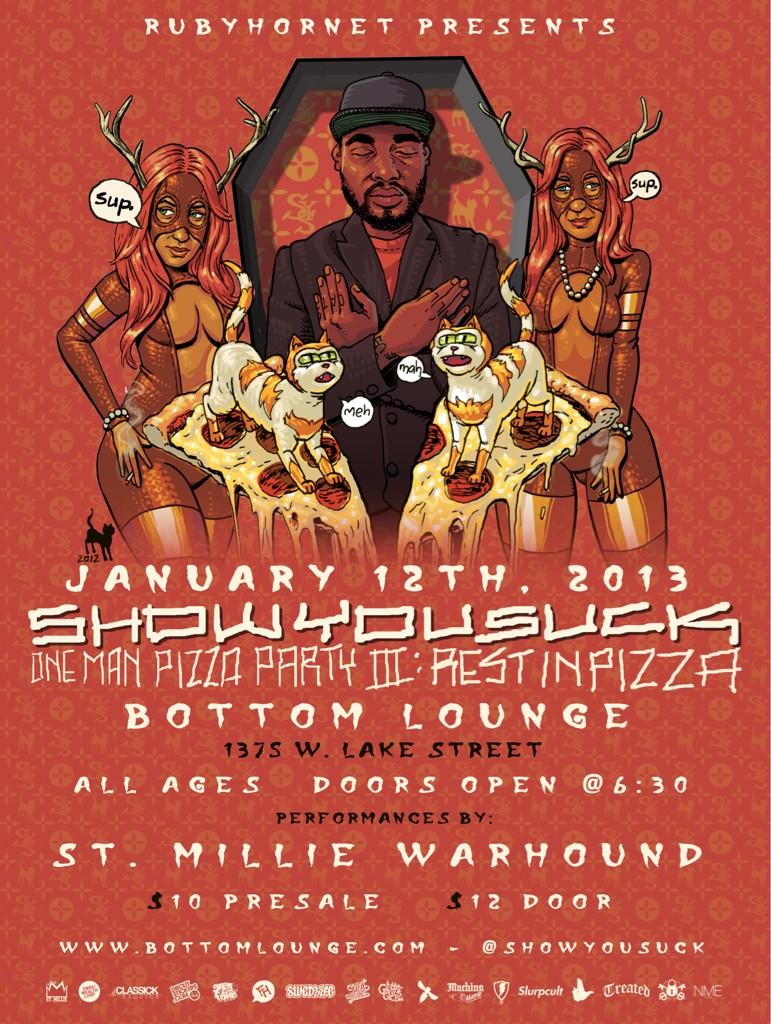 ShowYouSuck's One Man Pizza Party III: Rest In Pizza release party went down last night at Bottom Lounge.
The night was kicked off with some some great performances from opening acts Warhound and St. Millie. Both artists had their respective fans in the crowd along with fans waiting to see the headlining act of the night, ShowYouSuck.
ShowYouSuck promised a pizza party and he definitely came through. His set was kicked off with Auggie The 9th walking out with two boxes of pizza accompanied by Undertaker's theme song. That, along with his performance of "Pop Yo Pizza," were definitely some of the many highlights of the night. Show dove into songs from his Girls, Girls, Girls EP and all three One Man Pizza Party projects while giving out pizza slices. Show also brought out his two crews, LOD and Treated Crew, to rock the stage with him as well. The night was concluded with a great performance of the fan favorite "Original ChonChon."
You can check out some of the performances from all three acts below along with links to their most recent projects.
Download: ShowYouSuck-One Man Pizza III: Rest In Pizza
Download: St. Millie-No Religion But Up
Download: Warhound-The Hardstyle
More show footage: http://www.youtube.com/user/PursuitofDopenessChi?feature=mhee
Comments
comments